Some comments from our guests.
---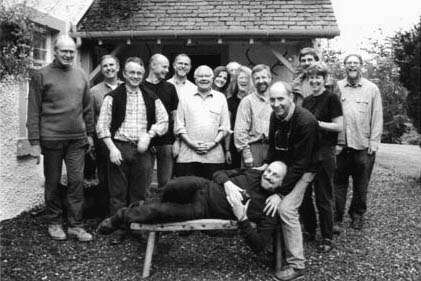 ©Sue Pymer - T.J.Cooper workshop .
''Not only was the food, accommodation and general ambience just wonderful but the workshop was an eye-opener for me and very rewarding.''
Vic, London
''As on my previous visit, the courses were excellent and I feel I have made progress with my photographic techniques......I always meet such nice people on your courses.''
Sheila, Kent

''The course itself fulfulled all expectations ..... the whole week was hugely enjoyable and intellectually stimulating...''
Mike, W. Midlands
''Thank you once again for a wonderful workshop. I enjoyed every minute and, in time, will realize how much I have learnt.''
Gill, Northumberland
''Many thanks for another excellent workshop week with the usual ingredients of wonderful food and good company and an especially splendid day on the Bass (Rock). Niall (Benvie) really is an outstanding tutor.''
Shelagh, Cambridge
''I wish to convey my sincere thanks for your hospitality and for the inspirational workshop.......I certainly hope to be back, not just for the photography but also for Linda's marvellous food.''
Jean, Birmingham
''...a really great workshop...I am feeling really energised and inspired....''
Jane, Oxford
''Thank you for being so kind and welcoming always and helping me progress with my photography.''
Michael, Hampshire
''Many thanks again for the great hospitality you showed and well organised workshop with Barry (Thornton) which I found of extreme value.''
Chris, Surrey
''... a wonderful workshop ..... very interesting and thought out.....a wonderful holiday thanks to your good care of us and the beautiful setting. I do love workshops where there is a lot of laughter....''
Dorothy, Yorkshire
''Inversnaid is Utopia!''
Joyce, Sussex
''...enjoyed every minute and loved working in the darkroom''
. Margery Jackson ,
''Gobsmacked! Will be back!''
Larry, Toronto, Canada
''A beautiful place, with beautiful people.''
Ron, Dallas, U.S.A.
''At last I've been able to restore my soul again here at Inversnaid - there is nowhere I would rather be to enjoy my photography.''
Cecilia, Devon
''Inversnaid isn't a habit I'm prepared to kick!''
Liz, Yorkshire
''...a lot of new ideas here once more...three wonderful days for me.''
Marianne, Germany